The China Difference
Preparing to give an executive education seminar in Beijing, I've been brushing up on my digital marketing a la Chine.
It's interesting to see how global brands tweak their execution around the world. For a while now I've been showing seminars how Lever's Lynx/Axe brand has rather cleverly replicated their "Even Angels Will Fall" TVC in the real world, using augmented reality.
Just in case you haven't seen the TVC (and because it is rather good), you can see it below:
The first "live" performance (if AR can be said to be "live"), seems to have been in London, England's Victoria Station, March 5, 2011. Thanks to a large digital screen, the perfect illusion of angels falling:
Not sure just how many markets Lever has taken this to, but one of my students pointed me to the event at Paragon last June (a major shopping mall in Bangkok). Looks very similar to the UK version, although the video is not quite as good.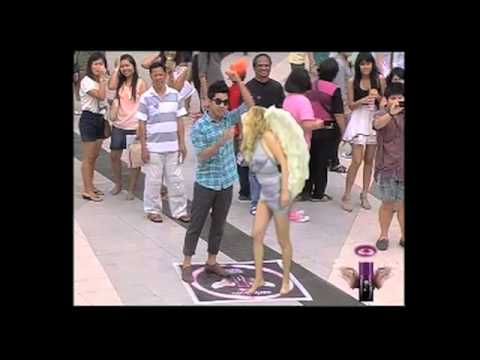 Mobile App
In Thailand there's also a popular (and even more sexist) mobile app version. This let's you catch angels in your mobile, where they simper gentle to you.
You can even choose which ones to catch.
China…no angels
Lynx/Axe seems to have just entered the PRC market (with the Lynx name), in June 2011.
The positioning seems about the same. But sans angels. Perhaps this is based on religious differences: are those females who sweep through Kung Fu movies and kill people angels?
Or perhaps based on other cultural aspects.
In any event the AR aspect is certainly there. Here's the Shanghai version as performed September 2011. They're wearing a bit more, and not visibly angels. But otherwise, very much the same.
…and in private more explicit
Then there's the Chinese AR app. Again they aren't visibly angels.
And, perhaps in cultural respect, Razorfish Shanghai designed the app for use in private. But the "un-angels" do dance in your hands…and, hey, what's the significance of that tissue at the end?
(many thanks to kindtyrant for providing these on YouTube…so much easier for non-Chinese readers to navigate than Tudou where these are also available).
Sequel
And if you still want more angels. The sequel to "Even Angels Will Fall" is here now. It seems a lot less sexist to me…basically illustrating some of the occupational hazards of living with an angel.
Reportedly this is the first time Lever have had a global sequel campaign like this.
Comments are closed.